Seventy guests, 25 wait staff, 16 chefs, 4 courses, 12 wines, 840 wine glasses, 1 wine expert, 16 pages of run-sheet, 6 pages of Risk Register, a client and four Lateral event managers rising above the gathering storm.
Last Saturday's 'The Iconic Wine Dinner' gathered some of the world's most iconic wines, tasted in parallel with the best new-comers. Torbreck The Laird 2009 does battle with Henschke Hill of Grace of the same year. Frescobaldi and Mondavi's Luce strips away the traditions of the Super Tuscans.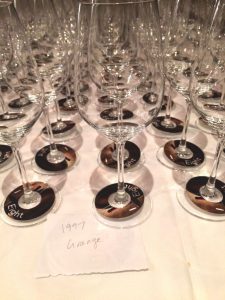 It was a full house – how could any fine wine aficionado or even the mildly curious turn down an invitation to learn about and taste some of the world's greatest wine during a superb dinner prepared by one of the most accomplished chefs in the country?
Over four hours the guests talked about wine, food and business; established new relationships and made plans together.
That's what Lateral's events are all about – fostering relationships through seamless extraordinary events.