What were we doing last night? Experiential Event Management.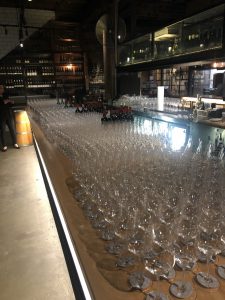 In the depths of winter, we open our wine fridges and bring out the 1986 vintages of Château Mouton Rothschild Pauillac and Château Margaux, that have been waiting patiently for over thirty years for the moment when the cork is prised from the bottle neck.
Bringing our clients the ultimate in wine events, the best vintages of some of the most renowned French wines, within a wine dinner of twelve exceptional wines; each with a story to tell; this is Experiential Event Management at its finest. Each wine is perfectly matched with dishes prepared by the nation's most esteemed chefs in an ambient setting and excellent company.
It could be the hedonistic aromas, the rich ripe fruits and spice, or the distinctive unique 'otherness' that delights you. Or maybe it is knowing that in this moment you are about to immerse all your senses with the world's most iconic wines.
Experiential Event Management should deliver experiences that resonate on a personal level, within a convivial and impeccably delivered environment. Guests should have intellectual takeaways and discussion points for weeks to come. They will take home brilliant memories of the evening that will endure for the rest of their lives.
Corporate event management at this level is perhaps 40% creativity, 20% access and 40% logistics. The guest's journey of exploration, surprise and delight, participating in a unique, money-can't-buy experience is half the task. The other half is a phenomenal level of attention to detail, anticipating all that might happen, and mitigating risks through contingency planning.
Our clients entrust us with their most important customers, where the event reflects their brand and where relationships are forged, enhanced or sealed, and where discussion points exceed anything that would ever be shared within a meeting or office environment.
You could call this corporate event management, but we like to think of it as more of an art.